Television, Tour, & Live Events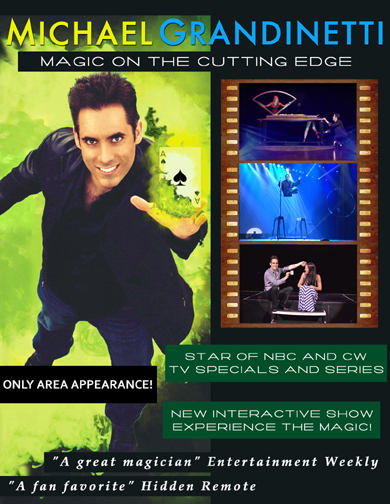 Michael Grandinetti has been a fixture on national and international television for many years. As one of the stars of The CW's hit series "Masters of Illusion" for the past five seasons, Michael has brought his magic to over one million viewers weekly, throughout the US, for five years in a row. The show is also currently syndicated in over 100 countries worldwide. Michael has also starred in NBC's "The World's Most Dangerous Magic" and POP's "Don't Blink", now currently in syndication across the country as well.
The Magic of Michael Grandinetti is also one of the hottest touring attractions across the US and Canada. Audiences and critics have praised Michael's show as he recreates many of the stunning illusions from his television and stadium appearances live on stage, right before the audience's eyes.
The 80-minute show is also an interactive experience, during which the audience doesn't just watch the magic, they experience it, participate in it, and are surrounded by it. Magic not only happens in front of them, but in their hands, with their borrowed items, and in many cases, leaving them with an unbelievable souvenir that they will have long after the show has ended.
Combining never before seen grand illusions, stage magic, & sleight of hand, with music, comedy, and many unexpected surprises, Michael Grandinetti: Magic On The Cutting Edge is a robust theatrical experience, perfect for audiences of all ages.
Throughout the show, you'll experience:
GRAND ILLUSION: This spectacular, large-scale style of magic is perfect for venues including stadiums, casinos, arenas, and performing arts centers. With a full cast of dancers and stage technicians, Michael creates larger than life illusions including visibly separating a girl in half, with no cover, walking through a 7ft tall wall of solid steel, levitating in mid-air while giving the audience a 360 degree view, and vanishing from a suspended platform high above the stage. And, this is just the beginning.

STAGE MAGIC: Roses visibly bloom, secret thoughts are revealed, inanimate objects come to life, and borrowed items travel through time – Michael's stage magic combines visual stand-up effects with audience participation, creating a unique environment where the audience is pulled into the show. This practical style of magic is compatible with any venue, even outdoors.

CLOSE-UP SLEIGHT OF HAND: Watch closely as Michael creates miracles just inches away from your eyes and in your own hands. This fun, personal, interactive style of entertainment makes a memorable connection with each audience.

Don't miss the chance to experience for yourself why Digital Journal gave The Magic of Michael Grandinetti "five out of five stars" and called Michael "the one to watch in magic."