About Michael Grandinetti
Michael Grandinetti is not your ordinary magician. With performances on national and international television, in stadiums, arenas, casinos, and theaters around the country, with Oscar-winning composers and symphony orchestras, for NFL and NBA halftime shows and major sporting events, in large-scale parades, for Fortune 500 companies, and even at The White House, Michael has made a name for himself around the world as a talented entertainer with a unique style, a compelling creative vision, and an engaging personality.
Over the past 20 years, Michael has been driven to make magic contemporary and to give it a wide, mainstream appeal. He has had starring roles NBC's "The World's Most Dangerous Magic II" television special, The CW's "Masters of Illusion" series, and Pop TV's "Don't Blink" series, and his magic has been featured on the Emmy-nominated FOX series "Bones", "The Today Show", "Access Hollywood", "Entertainment Tonight", "The Hollywood Christmas Parade", "The Bold and the Beautiful", ESPN's "SportsCenter", "NBA on TNT", "FOX & Friends", and "The Jerry Lewis MDA Telethon". He has also appeared as a guest on national radio shows and in media including Parade Magazine, Starpulse, The Huffington Post, MAGIC Magazine, TV Media Insights, Young Hollywood, Pittsburgh Magazine, The Beverly Hills Times Magazine, Go! Magazine, Tucson Living, and The Marilu Henner Show.
Michael was recently featured on CNBC's "Make It", a series about people who have achieved success in challenging industries, as well as on the cover of TV Times magazine, released nationally in newspapers across the U.S. In addition, Entertainment Weekly named Michael as "a great magician who can truly communicate with a TV audience" and Hidden Remote called Michael a "fan favorite…with charisma and an easy rapport with an audience".
Possessing a true passion for amazing live audiences, Michael has performed at a wide range of venues including Heinz Hall with Marvin Hamlisch and the Pittsburgh Symphony Orchestra, Harrah's Resort in Atlantic City and San Diego, United Center in Chicago, Oracle Arena in Oakland, CA, Bank of America Stadium in Charlotte, Casino Rama in Ontario, Canada, Grand Central Station in New York City, the Four Seasons Resort in Lanai, Hawaii, A.J. Palumbo Center in Pittsburgh, on the red carpet of ESPN's ESPY Awards at the Dolby Theater in Hollywood, and at The White House Easter Celebration.
Michael was also honored to be the first illusionist ever invited to perform in the National Independence Day Parade in Washington DC. During this remarkable celebration of our country, Michael levitated a girl high above one of the floats as it moved down Constitution Avenue while an audience of 250,000 people lined the streets.
In addition, Michael was recently one of the headlining performers in "Masters of Magic", a large-scale production show which ran nightly for two months at the Grand Sierra Resort and Casino in Reno, Nevada. Presented on the world's largest indoor stage, a full acre in size, Michael caused a 500lb motorcycle to appear in mid-air, levitated 10ft into the air under bright lights at the front of the stage, created interactive magic with everyone in the theater at the same time, and melted his body through the center of a 7ft tall wall of solid, examined steel.
Michael is currently starring in the hit CW television series "Masters of Illusion", now going into its fifth season and airing in over 100 countries around the world. Hosted by Dean Cain (Lois & Clark: The New Adventures of Superman, Hit The Floor), Masters of Illusion showcases the world's top magicians and illusionists in front of a live audience in Hollywood. During the run of the series, Michael has performed a wide variety of grand illusions and interactive stage magic including shrinking a girl to the size of a basketball, vanishing borrowed rings and causing them to reappear baked inside a loaf of bread, bringing a painting to life, levitating a lady in the center of the audience, and escaping from a platform suspended 20ft above the stage. Special guest Ace Young, star of American Idol and Hair on Broadway, assisted Michael onstage during the show for his "Walking Through Steel" illusion. Michael is also a headlining performer in "Masters of Illusion Live!" (based on the television show), the largest touring magic production in the world.
To promote the series, Michael performed a daring live stunt in which he levitated in the air, for 4 hours, 15ft above the Hollywood Walk of Fame. During the event, helicopters hovered overhead, traffic along busy Hollywood Boulevard came to a halt, and observers flocked from blocks away to wave their hands all around to try to figure it all out. The performance was broadcast by news sources across the country and the Pittsburgh Post-Gazette listed the stunt as one of the 5 things they loved during the week.
Michael also starred in the recent Pop TV series "Don't Blink", a docu-series that takes viewers inside the underground world of street magicians as they perform for the unsuspecting public and celebrity guests on-location throughout Los Angeles. For the series, Michael filmed 30 pieces of magic, from large-scale grand illusions to interactive sleight of hand, while surrounded by audiences at locations including Hollywood Blvd., Venice Beach, and Universal Studios.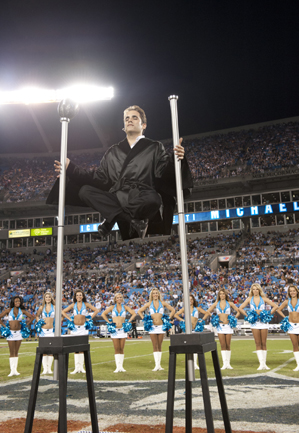 Always striving to take the art of illusion in new and exciting directions, Michael has pioneered live magic in one of the most challenging environments imaginable – major-league football stadiums, baseball stadiums, and basketball arenas. When he performed NFL halftime shows at Charlotte's Bank of America Stadium for the Carolina Panthers game against the defending Super Bowl champion New York Giants and at University of Phoenix Stadium for the Arizona Cardinals vs. Baltimore Ravens game, live audiences of over 70,000 people watched with a 360 degree view as Michael caused people to appear, vanish, shrink in size, and levitate 10ft into the air, right on the 50 yard line. The game at University of Phoenix Stadium was broadcast live on ESPN's Monday Night Football and legendary rock band Journey performed the National Anthem.
In addition, at Citizens Bank Park, Michael made the 7ft tall, 300lb Philadelphia Phillies mascot, The Phanatic, magically appear in the center of the outfield. For the Miami Marlins vs. Pittsburgh Pirates game at Marlins Park in Miami, Michael had the honor of throwing out the first pitch, after first making the game ball magically appear. At Kansas City's Kauffman Stadium, Michael performed one of the largest live interactive illusions in history when he read the minds of all 45,000 people in the stadium at the same time.
Michael has also created basketball halftime shows for teams including the Chicago Bulls, the Milwaukee Bucks, the Golden State Warriors, the University of Michigan, Penn State, USC, and for the Atlantic 10 Men's Basketball Championship at Barclays Center in New York City. Michael's halftime show for the Chicago Bulls NBA playoff game at United Center in Chicago, where he levitated at the center of the court while surrounded by a sold out crowd of 22,000 people, even caused commentators Shaquille O'Neal and Charles Barkley to comment in amazement during the live national broadcast on TNT. This is magic on a major scale.
Michael Grandinetti has come a long way since he received his first magic set for Christmas, and performed his first show, at the age of 5. When he was just 16, Michael designed and performed his first large-scale illusion when he caused a girl to vanish from the middle of an open football field and reappear in the stands among the astonished audience for his high school's football halftime shows. At 20, Michael created and produced his own two-hour show at Pittsburgh's historic Byham Theater. During the performance, a sold-out crowd of twelve-hundred people watched in amazement as Michael performed his original illusions, including bringing a life-size painting of a beautiful woman to life and levitating on the point of a razor sharp sword. That same year, Michael was honored to receive the City of Pittsburgh's "All-Star Achievement Award", given to those who have carved positive and noteworthy paths in their industry.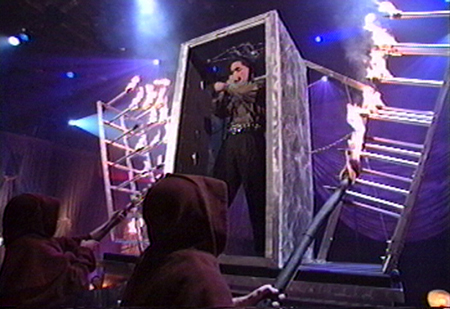 Michael's personality and style were introduced to the world when he performed his original creation "The Spike Tower" on the NBC television special "The World's Most Dangerous Magic II". While covered with a mixture of gasoline and kerosene and secured by chains, Michael had only sixty seconds to escape before two walls of flaming steel spikes were thrust towards him at over 50mph. Bringing together seven illusionists from around the world, Michael was the youngest performer on the show.
Michael combined the worlds of magic and music when he created special performances and appeared as a featured guest artist with the Pittsburgh Symphony Orchestra, the Grand Rapids Symphony Orchestra, the Huntsville Symphony Orchestra, and the Phoenix Symphony Orchestra. During these shows, while the orchestras played musical selections specially themed for each illusion, Michael magically transformed a tuxedo into the orchestra's conductor, made roses bloom on the stage, levitated into the air while surrounded by the playing orchestra, and, for a finale, caused the orchestra itself to read the minds of the audience by playing pieces of music they were only thinking of.
When ABC Family wanted to promote their "World Magic Awards" television special, Michael was contacted to create and stage spectacular live demonstrations throughout New York City. During the event, passersby watched in amazement as Michael levitated a woman while completely surrounded at various locations including Columbus Circle, Grand Army Plaza, and Grand Central Station. As a tribute to one of magic's legendary performers, Doug Henning, Michael repeated the illusion using Doug's original equipment, this time levitating actress Rachelle Wells high above the beach in Santa Monica, California.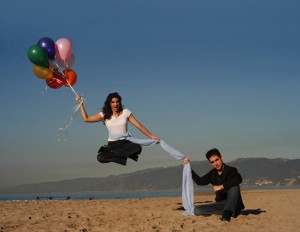 Michael's other live performances include over 100 shows at the world-famous Magic Castle (one of the few performers to headline in all five showrooms), CBS Television's 4th of July Fireworks Spectacular, and the Woman of Valor Gala in Beverly Hills with celebrity organizers including Danny DeVito, Rhea Perlman, and Jamie Lee Curtis. Michael also successfully predicted the exact score of Superbowl XXXVII, two weeks in advance, live on Los Angeles radio.
As a respected Creative Consultant, Michael is also very accomplished behind the scenes. He has taught sleight of hand magic to the actors on the CBS daytime drama "The Bold and the Beautiful" and, for the TBS show "Conan" starring Conan O'Brien, Michael consulted on a special illusion design intended to make comedian Zac Galifianakis magically appear at the panel for his interview. Michael was also contacted to contribute an original illusion for the Pamela Anderson show at the Hard Rock Resort and Casino in Las Vegas. In addition, Michael has consulted on a national commercial featuring sleight of hand for the United States Treasury, provided additional techniques in the instructions for a unique piece of close-up magic marketed after its appearance on a David Blaine special, written several articles on magic published in books, magazines, and newspapers across the country, and he was a historical/magic consultant for the book "Spellbound", detailing the life of famed illusionist Doug Henning. Michael's original illusion designs have been featured in productions in Atlantic City, Branson, Seoul, Korea, and on the television series "Paolo Limiti" in Italy and he was once even called about the possibility of making Dubai's Burj Khalifa, the world's tallest building, magically appear – before it was built!
Magic is Michael Grandinetti's life. And, through his work, Michael is making the ancient art of magic modern, innovative, and exciting while showing audiences around the world that nothing is impossible.